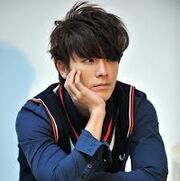 Lee Dong-hae (Hangul: 이동해; Hanja: 李東海) (born 15 October 1986 ) mononymouly credited as Donghae (Hangul: 동해), is a South Korean singer, songwriter and actor. He is best known as a member of the K-pop boy band Super Junior and its subgroup, Super Junior-M. He is also one of the first four Korean artists to appear on Chinese postage stamps.
Pre-debut
Donghae was born in Mokpo, Jeollanam on 15 October 1986.[1] Donghae initially wanted to become an athlete, but under the influence of his father, who once desired to become a singer, Donghae decided to train himself to become a singer. In 2001, Donghae signed a contract with SM Entertainment soon after he jointly won the Best Outward Appearance award with future band mate Sungmin on the company's third annual SM Youth Best Contest.[3] Under SM Entertainment, Donghae was put in singing, dancing, and acting lessons, and was then recruited into a five-member boy band Smile, with future band mate Leeteuk, but the idea was soon dropped.
In 2004, Donghae, along with Leeteuk were put into another boy band and formed Super Junior with ten other trainees. The group later became known as Super Junior 05, the first generation of a rotational music group, Super Junior. In November 2005, several days before the group's debuted, Donghae made a brief appearance at SBS's Shin Dong-yup's There Is There Isn't panel.