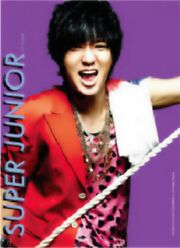 is better known by his stage name
Yesung
South Korean Idol Singer and occasional actor.
He is one of the four lead vocalists of the boy band Super Junior.
He was once a radio host for his own radio program, M.I.R.A.C.L.E for You, which ended its broadcast in September 2007.
His stage name Yesung ) is translated to "art-like voice" and is derived from the phrase "예술가의 성대", meaning "vocal chords of an artist."
SOURCE: Wikipedia. : )